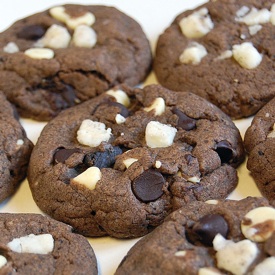 A long time ago I came across this Chocolate Chip Oreo Cookie Recipe at Two Peas and Their Pod. The recipe was good, but it was mostly a chocolate chip cookie with a few chunks of Oreos in each cookie (which, indeed, is a perfectly fine idea for a cookie). But I wanted an entire cookie that had a kind of Oreo taste, yet maintained the chewiness of a regular chocolate chip cookie throughout. I find the chunks of hard Oreos (a relatively dry cookie) don't fit well with an otherwise soft and chewy cookie.
It occurred to me that one way to create my chewy Oreo cookie would be to grind up the Oreos and add them to the batter. The result is this recipe. I also added some cocoa. And as for the Oreo filling, I found that if you separated the filling from the cookies, put it in the fridge awhile, you could then cut it up and shape the pieces into chip-sized… chips.
The recipe worked; the cookies were delicious, and did indeed taste kind of like big, soft, chewy Oreos. My girlfriend thought they were just a bit sweet. Next time I might drop a bit of the sugar.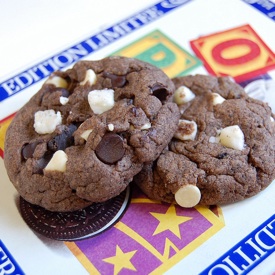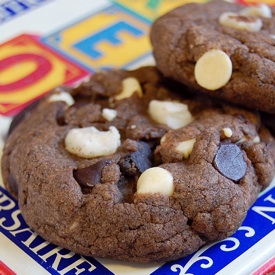 Soft and Chewy Oreo Cookie Cookies
1 stick butter
6 tbsp sugar
6 tbsp brown sugar
1 egg
1 tsp vanilla
1.25 cups flour
1/2 tsp baking soda
1/4 tsp salt
2 tbsp cocoa
6 Oreos
1/3 cup white chocolate chips
1/3 cup chocolate chips
1. Separate the Oreo halves and the Oreo filling. Grind up the cookie portion of the Oreos, and put the filling in the fridge. Set the Oreo crumbs aside.
2. Beat butter and sugars until creamy. Add egg and vanilla.
3. Sift together flour, baking soda, salt, Oreo crumbs and cocoa. Add this to wet mixture. Fold in chocolate and white chocolate chips. Put the dough in the fridge.
4. Take the Oreo filling out of the fridge and cut it up or shape it (whatever way works for you) into a bunch of little chip-sized chunks.
5. Take the dough out of the fridge, and drop tablespoon-sized cookies onto bake pans or sheets. Add the filling "chips" to the tops of the cookies.*
6. Bake at 350 degrees Fahrenheit for 8-11 minutes.
* shaping the filling into little chip-sized chunks isn't that easy. Next time, I might consider just mixing the filling in with the dough, and adding more white chocolate chips.