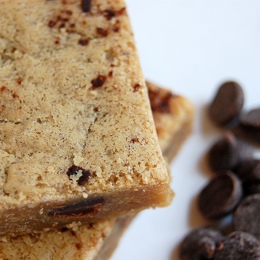 I mentioned in my Simple Brownies post that I was more of a blondie man than a brownie man. Thus, a blondie recipe.
This blondie recipe is simple and pretty much impossible to screw up. I don't really try other blondie recipes (much), because this is all you need. It's from Smitten Kitchen's blondies. If you check out the URL there, you can see "blondies-for-a-blondie," which is what I used to type into Google whenever I wanted the recipe.
I've tried many things, but my standby with this recipe is to just throw in a bunch of chocolate chips or chopped up semi-sweet milk chocolate. In the pictures for this post, you can see I used chopped up chocolate – those smaller specks are the tinier bits I didn't bother to throw out.
The blondie recipe is very fast and very easy. It tastes like a chocolate chip cookie and a brownie in one. You can also use these blondies, with some ice cream, whipped cream, and chocolate sauce to imitate Moxie's White Chocolate Brownie dessert. I usually just dip my blondies in milk, like a chocolate chip cookie, because that's how dreams are made. They're basically gooier chocolate chip cookies.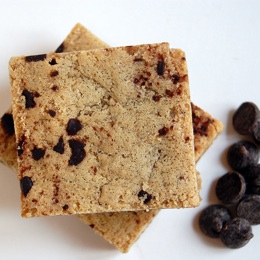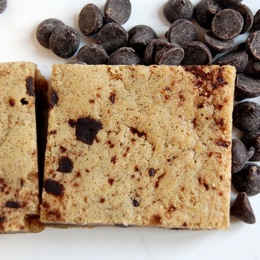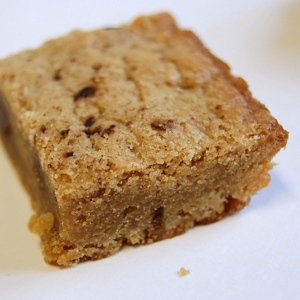 Blondies Recipe
1 stick butter (melted)
1 cup brown sugar
1 egg
1 tsp vanilla
1 pinch salt
1 cup  flour
1/2 cup chocolate chips or chopped chocolate
Directions
Mix melted butter and brown sugar. You don't need an electronic mixer; use a fork and stir until smooth.
Add the egg and vanilla and mix.
Sift salt and flour together, then add this to the wet mixture. Throw in the chocolate chips or whatever ingredient you'd like.
Pour the batter into an 8×8 square bake pan. Bake at 350 degrees for 20-25 minutes. Err on the the side of underbaked. I pretty much take them out right at 20-21 minutes. (Though you have to add more time if you're using a glass bake pan.)
Substitutions / Additions:
Add 1/2 cup of walnuts, pecans, white chocolate chips, or anything, really, either in addition to or in place of the chocolate chips.
Add in a mashed banana (and some walnuts).
Add in a few tablespoons of peanut butter and some peanuts.
Add a streusal topping.
Throw on some mini chocolate chips and demerara sugar on top.
These blondies are pretty much a blank slate for anything you want to try. But I like 'em simple.