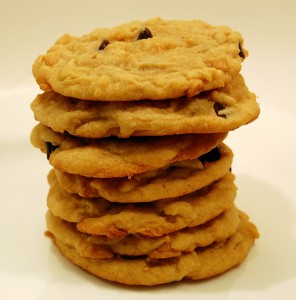 I like cookies soft, and most Peanut Butter Cookies do not fulfill this criteria. Too much peanut butter seems to mess up the consistency… yet the actual taste of peanut butter is so good. These cookies are my solution. The taste of peanut butter is not overpowering; there are only three tablespoons of it in the recipe. However the peanut butter chips make up for this. I also added chocolate chips because: who's going to stop me?
Ingredients:
1 stick butter (1/2 cup)
6 tbsp sugar
6 tbsp brown sugar
1 egg
1 tsp vanilla
3 tbsp peanut butter
1.25 cups flour
1/2 tsp baking soda
1/2 tsp salt
A handful of peanut butter chips (or more)
A handful of chocolate chips (or more)
Directions
1. Cream butter and sugars. Add egg, then vanilla, then peanut butter.
2. Sift together flour, baking soda, salt. Add to wet mixture. Add in various types of chips.
3. Place cookie sized rounds of dough on baking sheet/tray. Press down a bit with a fork, but you probably don't have to.
4. Bake at 350 for 8 minutes. Let cool about one minute, then place the entire trays of cookies in the freezer for about 10 minutes. Remove, let them come down to room temperature.*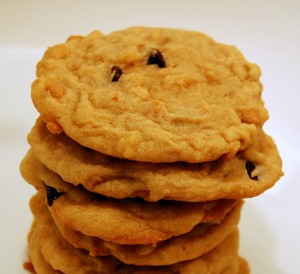 * I find this helps deal with the fact that these cookies are so soft out of the oven, and also prevents them from continuing to cook more as it sits on the still quite warm baking tray.