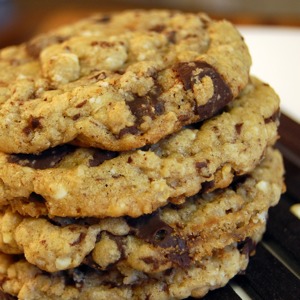 Here's the original recipe from Recipe Zaar, which is apparently taken from the Toronto Star, and they apparently got it from… Barbara Bush. Say what you will about the 43rd president of the United States–his mom makes a pretty darn good oatmeal chocolate chip cookie.
To the recipe I added ground up white chocolate (using a magic bullet), took out some dark chocolate to compensate, and threw in a bit of cinnamon. I love cinnamon on everything, so I am biased, but my girlfriend assures me it was a wise choice. The taste is subtle, bit it's clearly there.
The white chocolate spread throughout, combined with the oatmeal and cinnamon, makes for a pretty good cookie. If you don't want to try the white chocolate just add a corresponding amount of regular chocolate chips.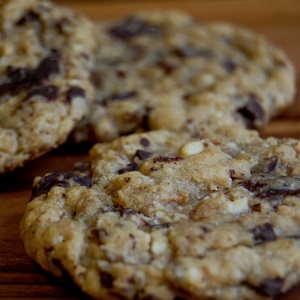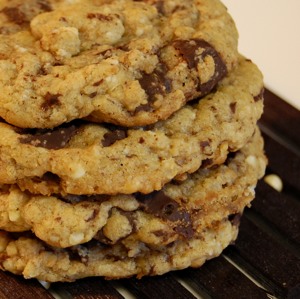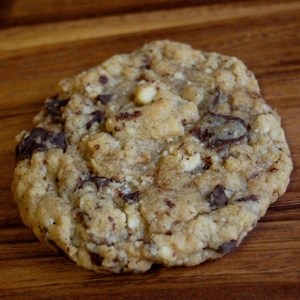 Oatmeal Chocolate Chip Cookies Recipe
Ingredients
1 cup butter
1 cup sugar
1 cup brown sugar
2 eggs
2 cups flour
1 tsp baking soda
1 tsp salt
1/2 tsp cinnamon
2 cups quick-cooking rolled oats
2 tsp vanilla
8 oz dark or milk chocolate, chips or chopped
4 oz white chocolate
Directions
1. Chop up dark chocolate if not in chip form. Grind up white chocolate chips into a powder.
2. Blend butter and sugars until fluffy. Add and beat in eggs.
3. Sift flour, baking soda and salt; add to wet mixture. Stir in oats, vanilla and chips. Add cinnamon.
4. Drop by batter by rounded tablespoon onto a greased cookie sheet.
5. Bake at 350 degrees for 8-10 minutes or until the edges seem cooked. Remove and let cool on wire rack.
I got about 50 oatmeal cookies.